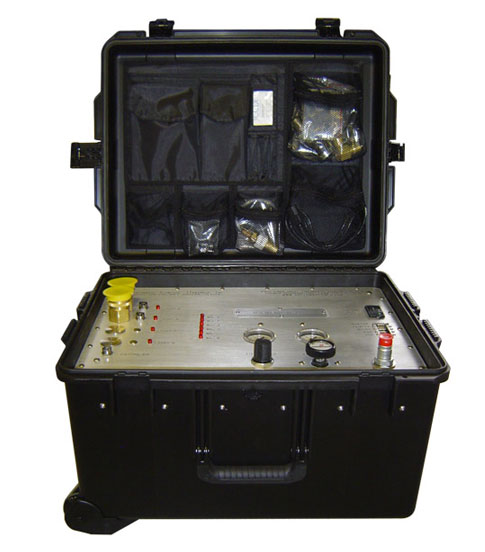 NextGen Model 620 Portable Mass Airflow Test Machine
Gas turbine and jet engine component testing
Save annually by shipping your machine to us for calibration! Portable airflow testing on wheels!
CCDI designed and created the FIRST airflow test bench in the industry. With over 60 portable benches in the production field today, it is by far the superior choice in the industry. The portable Model 620 Suitcase Airflow system is encased in a heavy duty military grade portable enclosure, 22" wide x 17" long x 12.7" high (55.9 x 43.2 x 32.2 cm) and weighing less than 135 lbs. The 620 has a retractable handle and wheels for ease of transport.
0.00060 to 0.08 Pounds Mass Flow per Second (lbm/sec)
0.00007 to 0.0095 lbs/sec Model 620 EL


NIST Traceable Airflow Measurement
Overall accuracy 1%, Sonic Nozzle Measurement Accurate to 0.56% standard, greater accuracies achievable with special transducer and laboratory calibration options
Flow Measurement Repeatable to +/- 0.25%
ANSI/NCSL-Z540 Calibration


GE, P&W, ABB, Rolls-Royce, Solar Parts Testing and others
Automatic Operation, Pressure Control and Switching


Equipped with up to (6) Sonic Nozzles, with auto single or dual sonic flow nozzle operation
2 Flow Ports and Test Pressure Port on exterior access to case
Airflow straightener tubes compliant ASME MFC-7M compliant or customized for Pratt Whitney
Fully automatic Computer Controlled Pressurization just like large machines
Laptop or small industrial computer
Operates on single COM Port
Part Test Profiles, manual or computer generated
English and SI (Metric) Flow Test Units
Uses the same CCDI Production oriented software as the larger airflow machines
MS Windows Based Part Test Software
Quality Control Report, Label and Data Acquisition File
Fixture Air Regulator for pneumatic clamping devices on tooling
Optional Port expander
One Year Warranty on Parts and Labor
Annual Calibration may be performed on-site or shipped back to CCDI
Free Operator Training, Testing and Certification at our site
Entire Assembly removes from case for service Additional Flow Ports B & E
Small Size unit is Fast at setting and measuring flow
Shipping weight without crate is 135 lbs.


Available In Various Ranges
EL and S Models in smaller case
Model 620EL 0.000077 to 0.004765 lbs/sec
Model 620S 0.000143 to 0.095000 lbs/sec
Model 620L 0.000280 to 0.019600 lbs/sec
Model 620M 0.000610 to 0.038440 lbs/sec
Model 620H 0.001228 to 0.077230 lbs/sec
Model 620XH 0.002438 to 0.154300 lbs.sec
Need more accuracy? CCDI can offer Digital Transducers.