CCDI has a fully capable machine shop for manufacturing components used in our airflow products. Our machines are available for additional work by request.
CCDI has a full machine shop that can fabricate from a prototype 3D design, produce a 3D printed prototype and finally machined production.
2 Fadal 3-Axis Model VMC15-XT CNC
1 Fadal 4-Axis Model VMC15-XT CNC
Delta Drilling Table (for Electrical and Pneumatic panels)
5 10" Drill Presses
1 Floor Press
1 Avey Floor Drill Press
1 Cadallac Lathe CNC 62" between centers
2 Hardinge Precision Lathes
1 Seiki VS CNC w/Analam Controls
1 Bridgeport CNC w/Dynapath Controls
1 Rockwell Manual Lathe 48" between centers
Miller Syncrowave 250 Welder w/argon
30 Ton Hydraulic Press
Lucifer Model 46-K24 Furnace 1600 Deg. F Max
Wire Gauges
Various Calipers
Cutting & Polishing Area:
1 Sonic Nozzle Polishing Motor
1 Polishing Motor
1 Varispeed Polishing Motor
1 Drake Johnson VH-24 Vertical Band Saw
1 Cincinnati Surface Grinder
2 Grinding Wheel Units
1 Buffing Wheel Unit
1 Oscillating Sander
1 4" Wide Belt Sander with 20" Area
1 "Zero" Blast Peening Machine
1 Vibrodyne Deburr/Shaker
2 12" Delta Disc Sanders


Welding/Sanding Fabrication Area & Shipping Dock:
1 Forklift
1 Table saw
1 Vertical Band Saw
1 Do-all C-916 Horizontal Band Saw 24"Sq
1 Miller Millenium 350P Welder w/argon
1 Acetylene Torch
1 Hobart Mega Mig 450-LS
1 Quincy Compressor
1 Scotchman 4014C 40 Ton Hydraulic Ironworker
1 Peck, Stow, Wilcox 42" Shear
1 Peck, Stow, Wilcox 42" Roller
1 Whitney-Jensen 42" Bender
2 Graymills Part Washers/Degreaser
2 Hand Trucks


Machining Center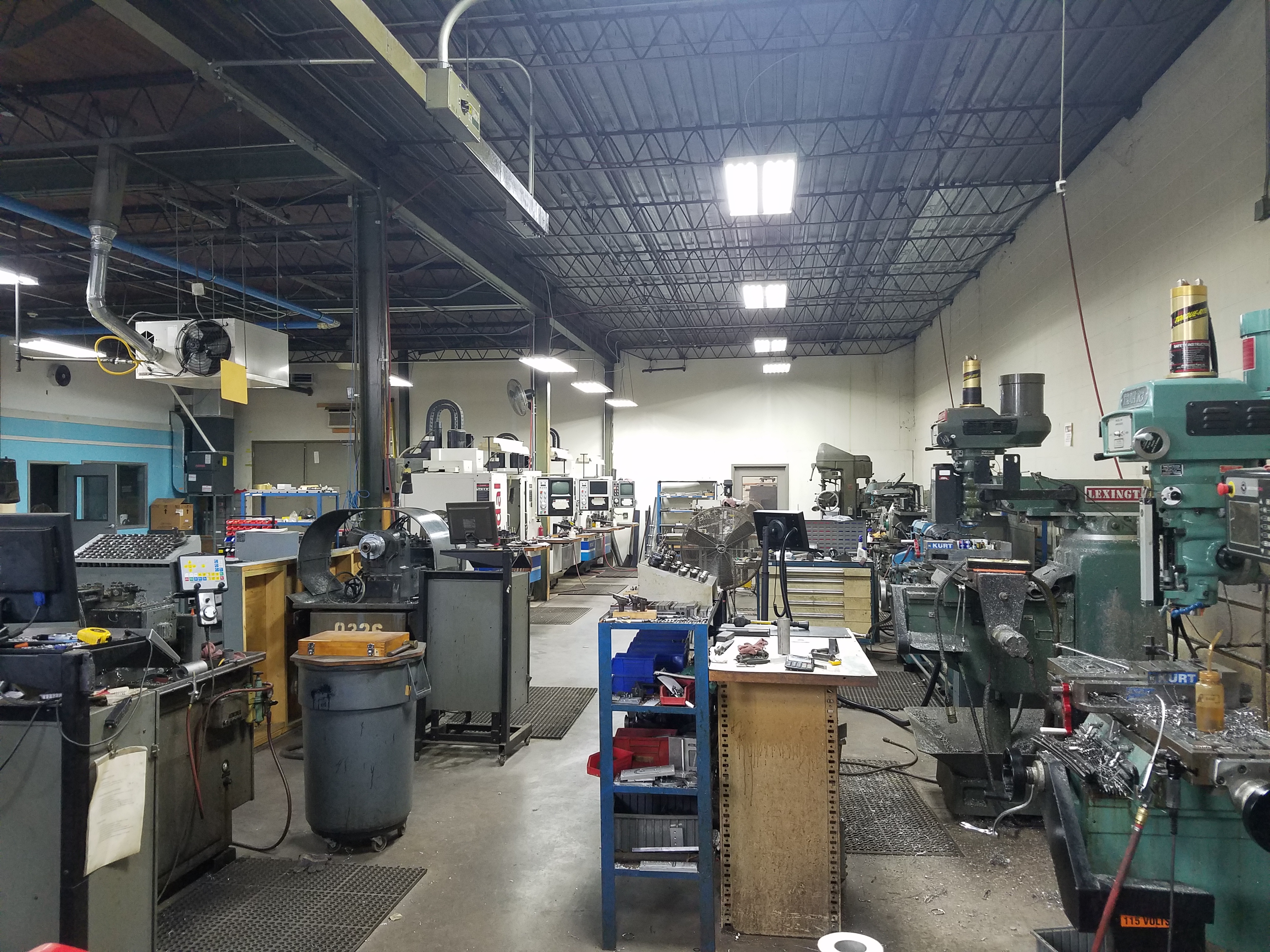 CAD work performed with Solidworks and AutoCad.