The Model 622 is designed for production cells to measure Mass airflow and other related measurements on turbine engine parts. The 622 has been upgraded to the NextGen series!
Model 622 Mass Air Flow Test Machine NextGen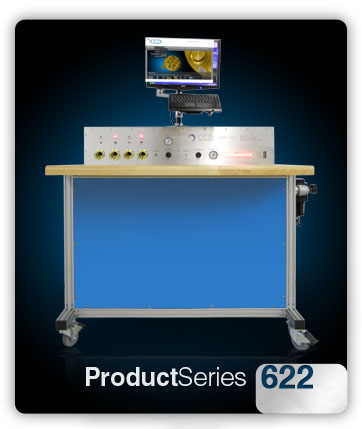 0.000119 to 0.154153 Pounds per Second (Greater range with XH Series)
0.000189 to 0.244840 Flow Parameter


NIST Traceable Airflow Measurement
Flow straighteners built exactly to customer specifications
Mass Flow Measurement Accurate to 1% with Analog Transducers (to 0.37% with Digital Transducers and special calbration options)
Flow Measurement Repeatable to +/- 0.25%
GE, PW, ABB, Honeywell, Siemens, Rolls-Royce, and Solar Parts Testing
15 to 30 Seconds per Flow Test
Manual/Automatic Operation
Internal Sonic Nozzles (4 to 6)
Automatic Single or Double Nozzle Select
Part Test Profiles
English and SI Units
MS Windows Based Part Test Software
QC Report, Label and Data Acquisition File
Can also flow small Effective Flow Area measurements
Data Acquisition File compatible with Excel
Free Operator Training, Testing and Certification
Shipping weight without crate is 350 lbs.
Dual Monitor Display optional
One Year Warranty on Parts and Labor


Additional Flow Ports B & E
Low Pressure P3 0-2 PSIG (0-55 "H2O)
Bar Code Reader
Label Printer and Bar Code Software Output
Printer
Enhanced Report Software (8.5 x 11 or A4)
Wireless Network Option
Dew point Meter w/Warning
Data Conversion
Low Pressure Warning
Lockout Box
Statistical Software
Networked Results Server
Fixture Control Language, Send Commands to Tooling
External Verification Master Nozzles
Air Dryer Systems
300 - 500 Gal. Accumulator tanks sold in pairs
Annual and Bi-Annual calibration packages
Need more accuracy? CCDI can offer Digital Transducers.