The Model 88 is an accurate and stable EFA instrument for area Effective airflow measurements of vane rings, combustors, segments and diffuser rings. These EFA machines can also be multipurposed for your testing requirements. CCDI is the leader in Effective Flow Area (EFA) measurement.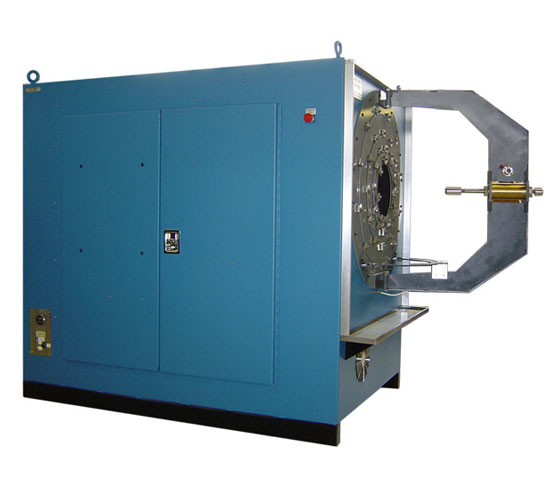 Area: 0.425 to 30 Square Inches EFA (40 Sq. In. Optional)
Pressure: 0" to 20" Water Column gauge
Pressure or (Vacuum, optional) Measurement
Equipment Turn-down ratio 110:1


NIST Traceable EFA (traceable orifice plates available)
All air density parameters are measured
Room and Plenum Temperatures
Barometric and Plenum Pressures
Dew Point (Humidity)
No reference blower needed
30 H.P. AC Blower Motor - Optional Blower Range Configuration (40 H.P. with 40 Sq. In. EFA Option)
AC Motor - No brushes to wear out, uses sealed encoder
Vector Motor Controller with 1.0 to 4,999.9 RPM
Automatic Software Controlled Clutch Mechanism for choosing single or dual blower operation
Large blower can be disengaged by clutch, this allows the small blower to measure small parts like vane segments without buying a second machine
Less Than One Minute per EFA Measurement
Test sequencing programmable for multiples runs and average flow
NIST Traceable Calibration Orifice Plates and ASME Subsonic Area Masters
Customer Correlation Table for Each Part or correlation table can be shared with other parts.
Four QC Reports and Data Acquisition File
Windows based report generation
Automatic Data Acquisition, can be transferred over network
Free Operator Training, Testing and Certification
Shipping weight without crate is 3000 lbs.
One Year Warranty on Parts and Labor


Noise Levels with Both Blowers Engaged
40 SQ IN 5 IN H2O, 4200 RPM 110.0 DB at 10 FT
40 SQ IN 1 IN H2O, 1896 RPM 86.3 DB at 10 FT
30 SQ IN 5 IN H2O, 3163 RPM 93.6 DB at 10 FT
30 SQ IN 1 IN H2O, 1424 RPM 78.0 DB at 10 FT
20 SQ IN 5 IN H2O, 2160 RPM 92.4 DB at 10 FT
20 SQ IN 1 IN H2O, 970 RPM 71.6 DB at 10 FT
10 SQ IN 5 IN H2O, 1175 RPM 71.6 DB at 10 FT
10 SQ IN 1 IN H2O, 514 RPM 75.0 DB at 10 FT
Need more accuracy? CCDI can offer Digital Transducers.