The Model 55 takes measurements of Plenum, Barometric Pressure, Air Temperature. It uses dry compressed air to reliably measure Effective Flow Area (EFA, AE, Class or A*Cd). A combination of our Mass Flow technology for the past 30 years and our EFA Measurement technology for over 15 years with 21st century digital transducer technology is behind this design. It is refined to optimize performance, making the Model 55 an accurate and stable EFA instrument ideal for area airflow measurements of small vane rings and segments.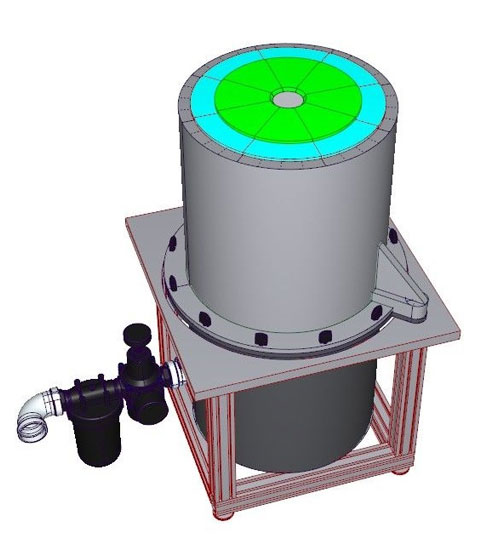 0.0477 to 3.05 sq. in. Measurements at 10" H2O (Water Column) , 1.0245 pressure ratio
0.0675 to 4.31 sq. in. Measurements at 5" H2O (Water Column) , 1.012289 pressure ratio
0.151 to 9.64 sq. in. Measurements at 1" H2O (Water Column) , 1.00245 pressure ratio
Pressure Range: 0 to 20" H2O (Water Column), 1 to 1.049 pressure ratio
Repeatability: +/- 0.1% or better
Simple WYSIWYG Windows Based Software


NIST Traceable EFA
Room and Plenum Temperatures
Barometric and Plenum Pressures
Uses compressed dry air
Less Than One Minute per EFA Measurement cycle, automated
Measurements of Square Inch, Square Millimeter, Square Centimeter and other area units.
Measures Mass Flow in lbs/sec, kg/sec and various flow functions
Built-in leak checking
NIST Traceable Sonic Nozzles
Customer Correlation Table for Each Part
Four QC Reports and Data Acquisition File
Windows based report generation
Automatic Data Acquisition, can be transferred over network
Multiple Manufacturers Test Specs and Formulas
GE, Honeywell, P&W, and Solar Turbine Part Testing
One-Year Warranty on Parts and Labor
Five Standard Sonic Nozzles: (0.088", 0.125", 0.177", 0.250", 0.353" dia) optionally substitutable with 0.021", 0.025", 0.031", 0.044", 0.062" diameters as well Pressure from 0.5 to 20 H2O, not limited to 0.5, 1 and 5" like other brands, uses high accuracy digital pressure gauges.
Uses Digital Temperature transducers


Repeatability: +/- 0.2% or better NIST Traceable better than 0.5% Simple User Friendly Windows Based Software Five Nozzle design with ability to combine two given nozzles brings maximum measuring range Pressure control, nozzle selection and acceptance, fully automatic EDI feature for piping data to network systems Various ranges available Choice of NIST Traceable or dimensionally calibrated Sonic Nozzles
Need more accuracy? CCDI can offer Digital Transducers.