AS9100 Registered since 2013 - ITAR Registered 2017
Cincinnati Control Dynamics, Inc. - Since 1977 CCDI is the trusted airflow name in aerospace and power generation. Innovation and customer satisfaction continue to be our top priorities as we upgrade our product line to the NextGen series. CCDI continues a strong growth pattern and has advanced into testing automation. CCDI Airflow is the airflow machine of choice for OEM manufactures such as Pratt & Whitney, GE, Honeywell and Rolls Royce. We currently support over 250 production Mass airflow and Effective Flow Area machines worldwide. Many of these machines continue to be supported and calibrated by CCDI for over 20 years.
CCDI now offers Flow Service as an alternative to purchasing a machine. Send us your drawings and specification, we'll do the rest. All fixtures and machines are built to customer specification, guaranteed.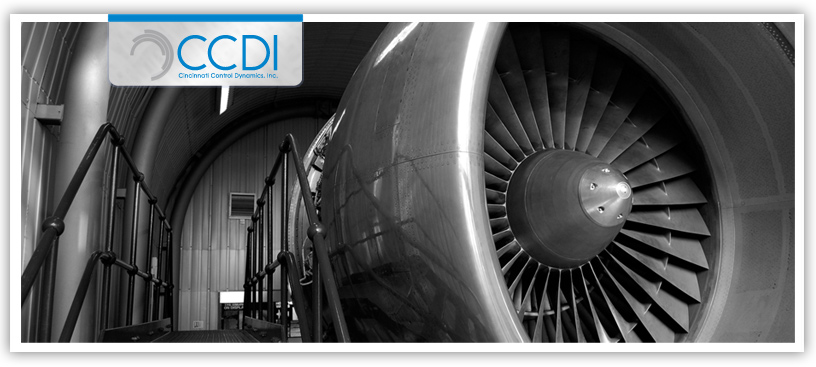 CCDI is the leader in non-destructive airflow test equipment for gas turbine engines. Since 1977, we have created customized airflow solutions for difficult and ever-changing airflow problems that our customers face. As a dedicated team of engineers and technicians, we continue to develop products that exceed industry-wide accuracy expectations. We stand behind the quality of our machines and as long as our calibration requirements are satisfied, you can rest assured that your CCDI product will continue to serve. Our software continuously improves to meet the latest requirements of the airflow industry; utilizing PID (Proportional, Integral, and Derivative) control , our technology ensures stable and accurate data acquisition. The user interface intuitively displays a detailed analysis of your specific test procedures. If you need an airflow solution that will fit seamlessly in your manufacturing process, please contact us for more information.